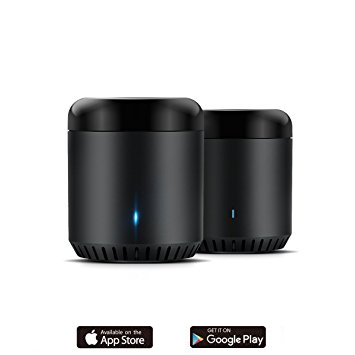 The WiFi to Infrared (IR) converter module will allow you to remotely control your home appliances ( Air Conditioners, TVs , Audio, STBs, DIY devices and many more ), using you smartphone via the free application for Android and iOS. The module comes with a microUSB power supply cable and a user manual for downloading and configuring the application for Android and iOS. The unit is truly universal as you can choose thousands of devices remote control codes and in addition if your target device is not in the database, you can "record" your remote control as the wifi to infrared module has a infrared "learning" function, so that you seamlessly add your device in case it is not in the database of supported devices.
The video below shows unboxing of the WiFi to Inrared module
The Wifi to Infrared module has build in functions for automatically recognizing the target device / infrared  remote control . If you have the original device remote control you can add it by simply scanning the original remote control infrared commands. These scanning  / learning functions are build in in the free applications for Android and iOS that comes with the WiFi to Infrared module.
The video below demonstrates how the remote control "learning" procedure works. It shows you how to add an Air Conditioner remote control in the App.
You can purchase WiFi to Infrared module from the link below:
- https://irdroid.eu/product/wifi-to-ir-converter/